We are pleased to confirm that Encompass is releasing new functionality on 16/12/2022.
Further details are available below, and if you have any questions at all please contact your Customer Success Manager
Contents
Performance Updates
Some of the Encompass data products now have a feature called fast Forward logic associated with them.
This feature means that these data products have the results that are returned matched against the original search input using our match rules.
When a single result returned exceeds the designated threshold, where we used to require a user to confirm the match, we now use this score to automatically select the match and allow the policy to continue without the need for user input which increases the speed of policy completion overall. In this event, a new entry in the audit trail is created, indicating that a fast forward has occurred, and indicates the number of weak results which were ignored.
Conversely, when no results pass the minimum threshold for matching, MFF will fast forward with a result of 'No match' (with similar messaging occuring in the audit trail).
Data Source Updates
Unique Identifier in WC1
Clients who use Refinitiv World-Check One are now able to view the Unique identifier (UID) in several places. Within the both the Purchase Flow and within the Screening page, on the Details panel, and within returned documents.
UIDs are available for both person and company entities.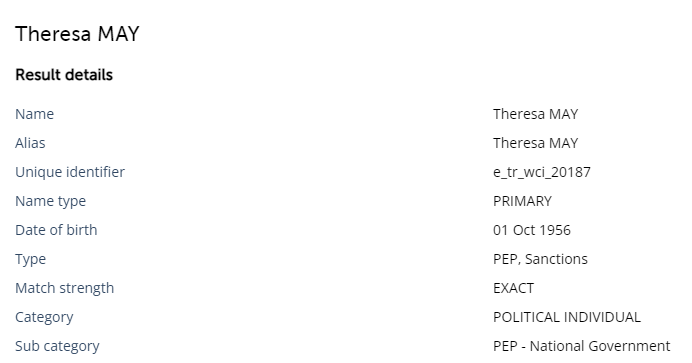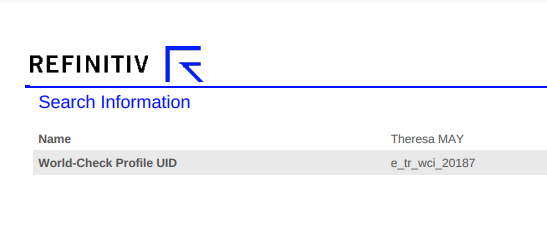 D&B Direct+ Updates
The following changes have been made to the D&B Direct+ data product. The updates add further information to Direct+.
Search result screen - added columns for entity

Location Type

and

Operating Status

.

Entity Turnover information, where available, has been added to the Chart Details panel and PDF document.

Former registered address is now displayed as a relation type in the Chart.
New Data Products
Connecticut Secretary of Sate
Encompass have a new integration with Connecticut Secretary of State data source.
All businesses operating in the State of Connecticut are required to register with and submit filings to the Connecticut Secretary of State.
Encompass has integrated with the Connecticut Secretary of State online Business records search to enable you to search fo rall domestic (formed in Connecticut) and foreign (formed outside of Connecticut) entities on record. Entity types include Corporations, LLC and Partnerships.
Please contact your Customer Success Manager to include this in your policy